Hiking and Biking Trails
Get Outdoors in the Lake Las Vegas Resort Area
Hundreds of miles of hiking and biking trails are within 30 minutes of Lake Las Vegas.
Lake Las Vegas is in a unique landscape that features desert, mountains, and lakes. The diversity of the region means there are countless options for outdoor recreation in and around Henderson.
The landscape also provides options for all experience levels. Whether you're interested in a leisurely morning walk or a strenuous day-long bike ride, there's something here for you. When you're hiking or biking throughout the Lake Las Vegas region, be sure to carry along plenty of water and take frequent breaks.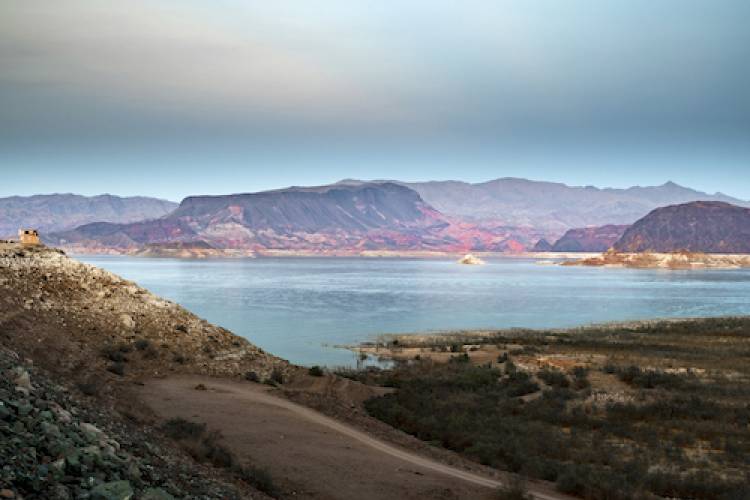 Henderson Master Bicycle and Trail System
The city of Henderson itself is home to a sprawling 184-mile trail system. The Master Bicycle and Trail Plan features paved and natural paths that include landmark viewpoints and distance markers. The Henderson bike and trail system is one of the most extensive systems of its kind in the entire state of Nevada.
Henderson trails are measured by difficulty based on the trail surface, elevation grade, and obstacles. Trails are ranked Level 1 - 3.  The city's trail system is open from 5 a.m. to 11 p.m., and unlit trails are open from dawn until dusk. 
Lake Mead National Recreation Area
There's so much to do in the Lake Mead National Recreation Area, including hiking, biking, boating, fishing, hunting, horseback riding, kayaking, and more. The park spans across 1.5 million acres of mountains, canyons, valleys, and two lakes. It includes nine designated wilderness areas. 
The Historic Railroad Trail near Lake Mead is an easy and dog-friendly path that follows an old railroad track. The path is 7.5 miles in total through five large tunnels. The railroad route used to run from Boulder City to Hoover Dam between 1931 and 1961. It was transformed into a recreational trail in 2015. 
Wetlands Park Nature Preserve
The Wetlands Loop Trail is a 14-mile multi-use trail for hiking, biking, and walking in the 210-acre Wetlands Park Nature Preserve. The Wetlands Park Nature Preserve features many trailheads, including Duck Creek Trailhead, Wetlands Neighborhood Park, Sunrise Trailhead, Pabco Trailhead, Bostick Interpretive Area, Wells Trailhead, and Powerline Crossing. Cyclists should be mindful of trail use in the nature preserve, as not all are open for biking. 
River Mountains Loop Trail
The River Mountains Loop Trail is a 34-mile loop that connects the Lake Mead National Recreation Area, Hoover Dam, Henderson, Boulder City, and the Las Vegas Valley. The trail system is paved and offers scenic views of the Mojave Desert and abundant wildlife. You can connect to this trail at various points throughout Boulder City, Henderson, and Lake Mead Recreational Area.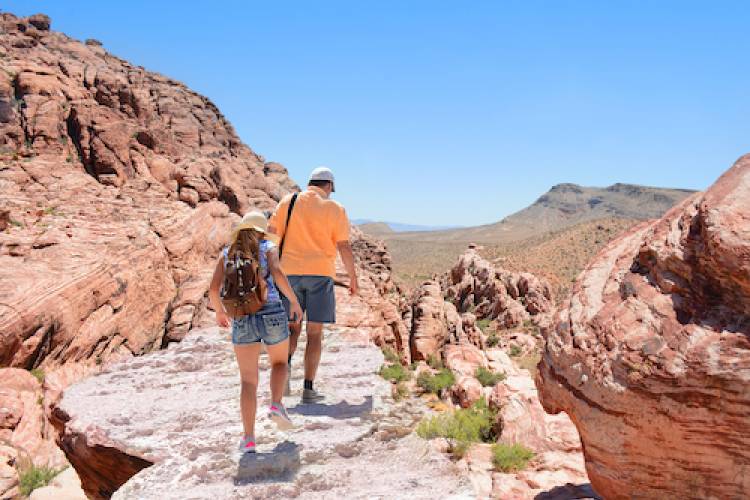 Redrock Canyon National Conservation Area 
Located about an hour away from Lake Las Vegas, the Redrock Canyon National Conservation Area covers 195,819 acres in the Mojave Desert. The park features 26 numbered hikes and trails for all skill levels and a one-way 13-mile scenic drive. Petroglyph Wall, Grand Circle Loop, Kraft Boulders, and Moenkopi Loop are among the trails in this park. View red sandstone peaks, Native American petroglyphs, and more. 

Union Pacific Railroad Trail
The Union Pacific Railroad Trail stretches 7.3 miles along a railroad track. The long stretch ends at Acacia Park, which features basketball courts, fields, picnic shelters, a playground, dog park, and a splash pad. This trail also connects to the I-215 East Beltway Trail at the northwest edge of Acacia Park. 
Lake Las Vegas, Henderson, and the surrounding area are home to miles and miles of trails for hiking and biking. Let us help you plan your trip and find the best places to hike and bike while on your Lake Las Vegas vacation.