Water Sports
Cool off on the water at Lake Las Vegas
At Lake Las Vegas, taking advantage of the water is a must. There are so many options to get out on the water, cool off, and take in the scenery. From leisure activities like kayaking or renting an electric boat to turning it up a notch and trying your hand at flyboarding, you can choose your own adventure. 
Lake Las Vegas is 320 acres of water with 10 miles of shoreline so there is plenty of room for everyone to make a splash. The lake was man-made in the 1990s and was designed to provide an oasis in the middle of the desert. There's so much to see and do in Lake Las Vegas. Contact us to learn more and book your vacation rental with us today.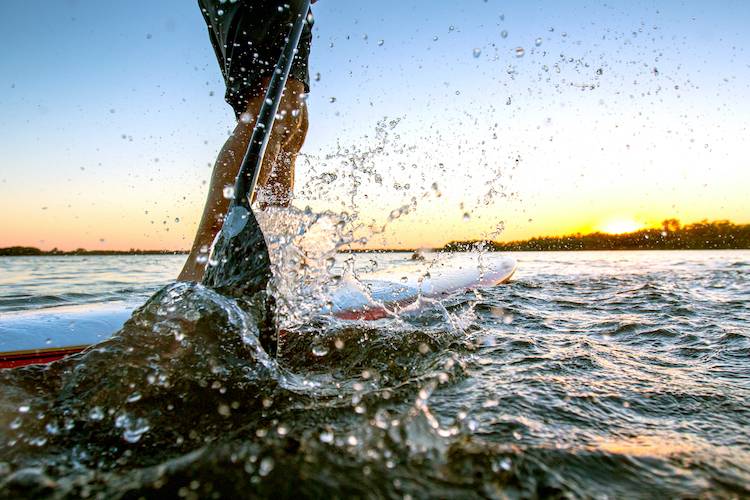 Paddleboarding
Standup paddleboarding is widely increasing in popularity, and while it's low impact, it's a bit more challenging than you might think. While shaped like a surfboard, paddleboards are longer and wider to provide more stability as you stand and paddle through the water. Maintaining balance can be a good workout for your core and also provide a fun change to kayaking. Take a leisurely cruise around the water or take a standup paddleboard yoga class for a bit more of a challenge.
Kayaking and Canoeing
Go on a kayak or canoe tour, or rent one and head out on the water on your own. You can kayak or canoe Lake Las Vegas as well as Lake Mead and in the Black Canyon. This is a great way to experience the water and enjoy the surrounding views while still being active. There is plenty to see as you cruise around and you could even safely bring your phone with you for pictures!
Electric Boats
Spend the day with the family out on the water with an electric boat rental. Lake Las Vegas marina is a full-service center where you can rent an electric boat, as well as kayaks, paddleboards, and more. Electric boats are a great option for those looking to explore the large lake and the sights in a calm and relaxing way.
Have a big group traveling to Lake Las Vegas? La Contessa offers private yacht excursions including food and beverages for up to 130 people. 
Flyboard
Looking for the ultimate adrenaline rush? Flyboarding and jetpack experiences may be the perfect solution. Take flight in the air after being trained by a professional on land. Not interested in flying? Check out the pros practicing their freestyle aerial performances on Lake Las Vegas in the evenings.